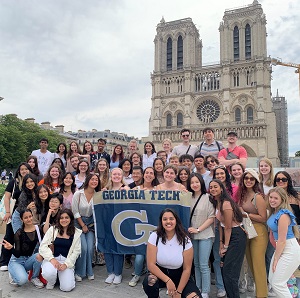 Undergraduates are invited to apply for the the Biomolecular Engineering, Science, and Technology (BEST) Study Abroad Program in Lyon, France for 2024. The BEST-Lyon program combines study at Georgia Institute of Technology, the premier science and engineering institution in the southern U.S., with a summer experience at CPE-Lyon University, a university rich in history in the chemical sciences, engineering, and technology. Participants can explore the inventions of Louis Pasteur, Victor Grignard, Pierre and Marie Curie while studying in France's "second-city", Lyon.
Program Dates: To be determined (likely mid-May to July 11, 2024)
Students may earn up to 6-8 semester credits from the following courses as part of this Georgia Tech faculty-led study abroad program:
BIOS 3450 RBT-Cell &Molecular Biology, 3 credits*
BIOS 3451 RBT-Cell & Molecular Biology lab,1 credit
CHEM 2311 RBT-Organic Chemistry I, 3 credits
CHEM 2312 RBT-Organic Chemistry II, 3 credits.
CHEM 2380 RBT-Synthesis Lab I (Organic Chemistry), 2 credits
CHEM 2801 RBT-Special Topics-Chemistry, 1 credit
FREN 1001 RBT-Introduction to French, 3 credits
*Students who are enrolled in CHEM 2311 in Lyon are eligible to receive a prereq permit for BIOS 3450. 
Students visit cultural and scientific site visits in the region (e.g. Pasteur Institute, Pasteur Museum, and Curie Museum in Paris and CERN in Geneva, the Roman ruins of Old Lyon, the Ardeche region of France). For a look at the BEST Lyon summer activities, check out the Georgia Tech BEST Lyon France facebook page. The detailed schedule of courses and program excursions is expected to be available in mid March. Course syllabi will be available in early/mid May. Information will be posted via canvas for program participants. For an estimate of total costs (i.e. program fee, tuition, meals, etc), see the program description at the Georgia Tech Office of International Education website.
Georgia Tech reserves the right to alter or cancel this program due to low enrollment, unavailability of a professor to teach a planned course, or other unforeseen circumstances. If Georgia Tech cancels the entire program before departure for reasons within its control, all fees paid by participants will be refunded. If Georgia Tech cancels the program before departure or while the program is in progress for reasons beyond its control, such as political unrest or danger to participants' safety, only those fees that Georgia Tech is able to have refunded by service providers will be returned to participants.
CLICK HERE TO APPLY FOR BEST-LYON FRANCE STUDY ABROAD PROGRAM!
Additional information:
Interested in knowing more about study abroad in Lyon: Please contact Georgia Tech BEST Lyon Program Director: Cameron Tyson