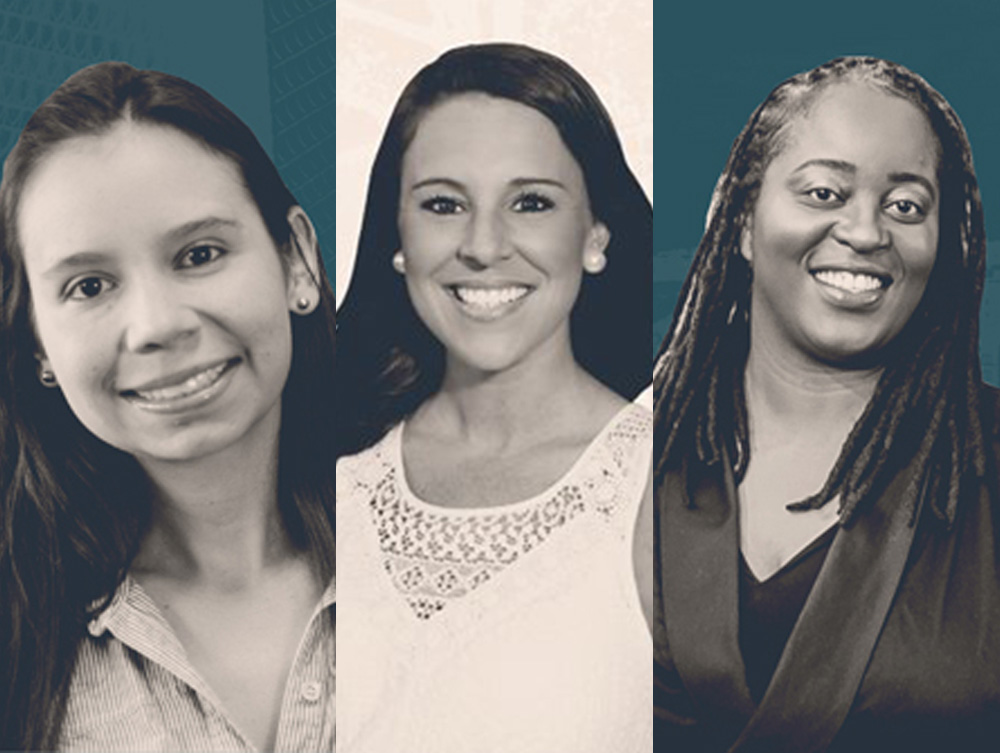 Jul 23, 2020 - Atlanta, GA
See the full 40 Under 40 list on the Georgia Tech Alumni Association website.
The Georgia Tech Alumni Association has announced 40 distinguished honorees who have innovated industries and positively impacted communities across the globe. More than 250 individuals were nominated by colleagues, peers, and Georgia Tech faculty this April.
The inaugural list includes a trio College of Sciences alumni: Kathryn Lanier, Director of STEM Education Outreach at Southern Research (PhD Chem 17); Maria Soto-Giron, Translational Bioinformatics Lead at Solarea Bio (PhD BI 18); and Nseabasi Ufot, CEO of the New Georgia Project (Psy 02).
"I am amazed and humbled by the accomplishments of these innovators and trendsetters. They epitomize the focus that our Georgia Tech alumni have to make the world a better place," shares Dene Sheheane, president of the Georgia Tech Alumni Association.
Those nominated must have completed at least one semester at Georgia Tech, be under the age of 40 as of June 30, 2020, and have made an impact in their profession or community, spanning all industries and sectors. A committee of 26 faculty, staff, and volunteer leaders, who collectively represented all Georgia Tech colleges, scored each nominee using a 25-point rubric.
Selection Committee member Bert Reeves, MGT 2000, State Representative in the Georgia House of Representatives, expressed that, "I was blown away at the nearly impossible task of scoring the applicants. These are folks who are not just impacting their community and state, but in some cases, their country and the entire world. It is truly inspiring to see the innovation and passion that our alumni are contributing to many of the greatest issues our world faces today."
40 Under 40: College of Sciences 2020 Honorees

Kathryn Lanier (PhD Chem 17)
Director of STEM Education Outreach at Southern Research
Kathryn Lanier is a problem-solver, a doer, and a builder of things never before imagined. She's also pioneering the first-ever position of director of statewide STEM education outreach programs for Southern Research. Without a playbook of operations, she's enjoyed the freedom of building a "STEMpire," that includes everything from deep policy discussions with representatives at the state level to hosting students and teachers in the Southern Research STEM lab in Alabama. At the same time, she can sometimes be found dressed like a cat performing as her alter-ego, The Chemistry Kat, and traveling the state to host STEM pep rallies for hundreds of students. "Middle schoolers inspire me," Kathryn says. Of course, they can be awkward and smell sometimes, she says, but their resilience is stronger than titanium. And no matter what's going on in their private lives, they allow themselves to dream. "To live in such a way that you wear your hopes so clearly for the world to see is brave, and it's inspiring."
Fun Fact: She has a reoccurring dream of getting stuck in the tunnels beneath the Biotech Quad. While it changes each time, her favorite version has been one where she meets and mingles with the legendary George P. Burdell.
 
Maria Soto-Giron (PhD BI 18)
Translational Bioinformatics Lead at Solarea Bio
In the U.S., about 10 million Americans are currently living with osteoporosis or osteopenia and the majority are women. For Maria Soto-Giron, that statistic is personal. Her motivation for working in biotech looking for treatments to reduce chronic inflammation is her mother who has rheumatoid arthritis and osteoporosis. "For more than 30 years she has suffered the serious side effects of the current drugs," Maria says. In her pursuit at Solarea Bio, a biotech startup, she's searching for a preventative approach using probiotics and plant fibers from fruits and vegetables as a treatment to reduce chronic inflammation without the negative side effects from drugs currently on the market. In her role leading the bioinformatics team, she created a computational platform to analyze hundreds of microbial genomic components to identify microbial candidates that could result in human health applications. As a Colombian, female scientist, she's also passionate about increasing access and building STEM opportunities for young girls in Colombia.
Fun fact: She used to play underwater hockey (yes, you can play hockey underwater) back in Colombia.
 
Nseabasi Ufot (Psy 02)
CEO of the New Georgia Project
From corporate lawyer to labor lawyer to lobbyist to community organizer and now nonprofit executive, Nseabasi Ufot has taken an unconventional path. No matter the endeavor though, she never forgot what she learned at Tech—notably, how to apply the scientific method to solve any challenge she faced. "While my formal GT education prepared me to understand cognition and how the human brain works, it also forged my habit of Questioning, Researching, Hypothesizing, Experimenting, Observing, and Communicating Results," she says. She uses it to answer the smaller questions in life like what haircare products to use, and to answer the larger ones, like what messaging and engagement tactics are most likely to turn a first-time voter into a super voter? At New Georgia Project, Nseabasi leads a team of more than 125 to build campaigns and technology to register, educate, and mobilize citizens from underserved and underrepresented communities. The organization has helped nearly 450,000 Georgians register to vote through face-to-face conversations, mobile apps, and video games.
Fun fact: She's an avid gamer and speaks four languages.
 
A list of all 40 inaugural honorees is available here.
Check out data visualization of the 40 Under 40 list here.
About the Georgia Tech Alumni Association
The Georgia Tech Alumni Association, chartered in 1908, is an exclusive network of more than 172,000 worldwide tied together by their experience at Georgia Tech. Through the Association, Tech alumni gain immediate access to its extensive, global alumni network, as well as numerous alumni programs and services designed to enrich both careers and lives. The Georgia Tech Alumni Association is a participation-driven non-profit corporation governed by a board of alumni volunteers. Since 1947, the Association's Roll Call program has raised money to financially support Tech's academic mission, a tradition that has transformed the Institute into the place it is today. Learn more at gtalumni.org.