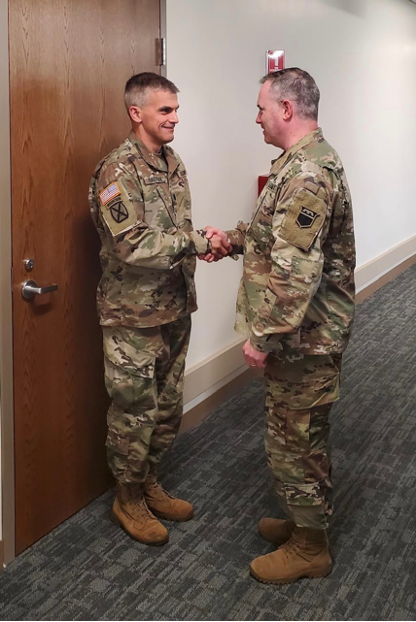 Aug 25, 2023
Joseph Sadighi, Associate Professor in the School of Chemistry & Biochemistry, is known around campus as a caring and effective teacher of organic and inorganic chemistry and a researcher developing catalysts for chemical reactions to address problems of climate change and drug development.
What many don't know is that Prof. Sadighi is also a soldier in the U.S. Army Reserve. During monthly training weekends and an annual two-week exercise, he works with the U.S. Army Reserve's Consequence Management Unit (CMU) to analyze and counter chemical, biological, radiological, nuclear, and explosive (CBRNE) threats.
Joseph interrupted his chemistry career to serve in the Army on active duty from 2007-2011. While deployed to Afghanistan with the 10th Mountain Division he decided to return to teaching and research, gratefully accepting his current position at Georgia Tech. Wanting to continue his military service and to leverage his scientific experience, he sought out and joined the CMU as a chemistry subject matter expert. This unique unit brings together Army Reserve soldiers with unusual expertise from their civilian careers, who offer analysis and advice on CBRNE hazards.
In 2019, Prof. Sadighi became the Operations Officer for the 490th CBRN Battalion, in Anniston, AL, as it took the lead in the CBRNE Response Element – A, one of two force packages designed to assist civilian responders in the event of an unconventional disaster in the United States. Following the Battalion's return from remote operations during COVID and its transition to Department of Defense-focused operations, he rejoined the CMU as part of its Joint Technical Analysis and Integration Cell (JTAIC). In March 2023, the JTAIC deployed to the Republic of Korea in support of Exercise Freedom Shield (see https://www.army.mil/article/265548/joint_technical_analysis_and_integration_cell_supports_wmd_missions_around_world).
Prof. Sadighi was recently promoted from Major to the rank of Lieutenant Colonel, allowing him to have an even greater impact on US readiness to meet a wide variety of challenges. Joseph thanks his family and colleagues for their indispensable support and encouragement; we congratulate and thank him for his outstanding service.