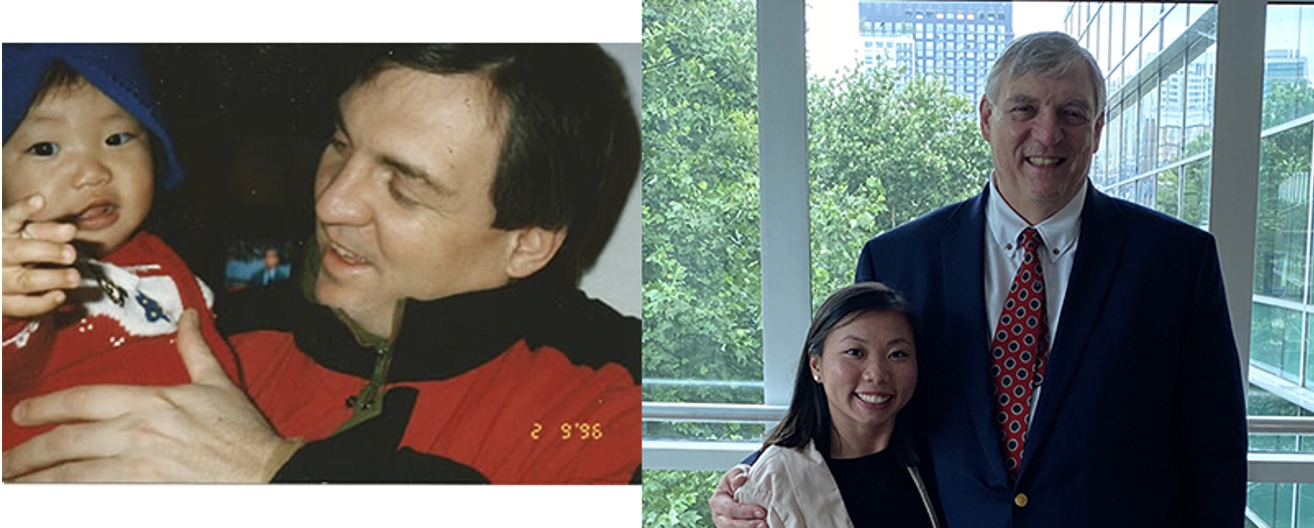 Sep 08, 2023
A few months ago, Mathilda (Mathi) Willoughby completed her Ph.D. studies in the School of Chemistry and Biochemistry by defending her thesis titled ""Enhanced Studies of Nuclear and Mitochondrial Heme Dynamics."  A thesis defense features a public seminar by the candidate, followed by a private discussion with the candidate's thesis advisory committee, which then votes to approve the thesis and certify the awarding of the Ph.D. degree.  It is both a solemn and celebratory occasion, a lovely mix of science and community, often including members of the candidate's family.
On this occasion, the newly-minted Dr. Willoughby was joined by another Dr. Willoughby – her father, Ross, who received his Ph.D. from our department in 1983, working with analytical chemist Rick Browner. The Browner-Willoughby duo produced pioneering design, research, and lucrative patents on the development of particle beam liquid chromatography-mass spectrometry, a key step in the evolution of modern analytical chemistry.
Our research shows this to be the first father-daughter doctoral pair in the long history of our School, a milestone to be celebrated. Dr. Willoughby the Elder notes, "Tech was truly transformative in my life and the beginning of a remarkable career in science.  It wasn't that I learned things at Tech; more importantly, I learned how to do things at Tech that would lead to extraordinary opportunities to solve problems and meet interesting people traveling all over the world.  While lecturing in China in the mid 1980s I fell in love with China and several years later my wife and I were fortunate to be able to adopt Mathi from Fuzhou.  Mathi was one of the first babies allowed for adoption from China in the early 1990s (reportedly only 200 the first year).  Without Tech, I wouldn't have had the opportunity to go to China; which, by connection, Mathi likely wouldn't have had the opportunity to go to Tech.  God works in mysterious ways."
Dr. Willoughby's extraordinary career featured a rapid rise through the ranks at Extrel, an innovative company in mass spectrometry instrumentation, to the position of Vice President of Research and Development in the 1990's.  After leaving the company a few years later, he has founded three companies in analytical chemistry and publishing in the Pittsburgh area, and is still inventing, with his most recent patent filed earlier this year.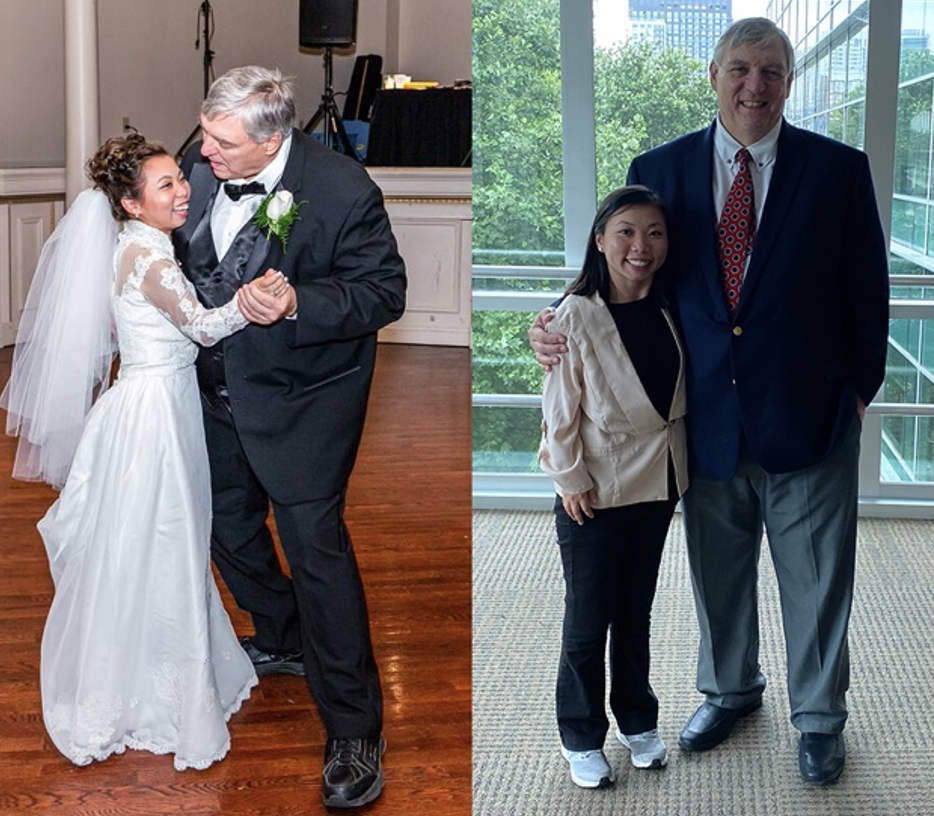 As a member of Professor Amit Reddi's group, Dr. Willoughby the Younger explored the trafficking and biochemistry of heme in mammalian cells using a combination of sophisticated protein fusions, light microscopy, and insightful experimental design – valuing the learning of "how to do things" in the same way as her dad. 
She wrote, "I have had amazing opportunities collaborating with scientists all over the world on several innovative projects.  The Chemistry department has been instrumental in my success and is one of the reasons I wanted to come to Tech for grad school.  Within such a supportive community, I was able to form personal relationships with professors, colleagues, and administrators that have allowed me to thrive.  Tech has also exposed me to cultures and people from all over the world that I now call colleagues and friends.
"My personal family connections continue as I also met my husband (Matthew Richardson) at Tech, who graduated with an aerospace engineering degree (BS, Class of 2018).  He is also a Georgia Tech legacy as his grandfather also went to Tech (Textiles, BS., Class of 1964).  Matthew currently serves our military as a Captain in the Air Force, and is based in Omaha, NE.  I will be pursuing post-doctoral training at the University of Nebraska Medical Center in Omaha, NE, in the Biochemistry and Molecular Biology Department."
The School of Chemistry and Biochemistry congratulates the Family Willoughby on your past and future successes. And we thank you for contributing so much to our community and the world with outstanding research and service.