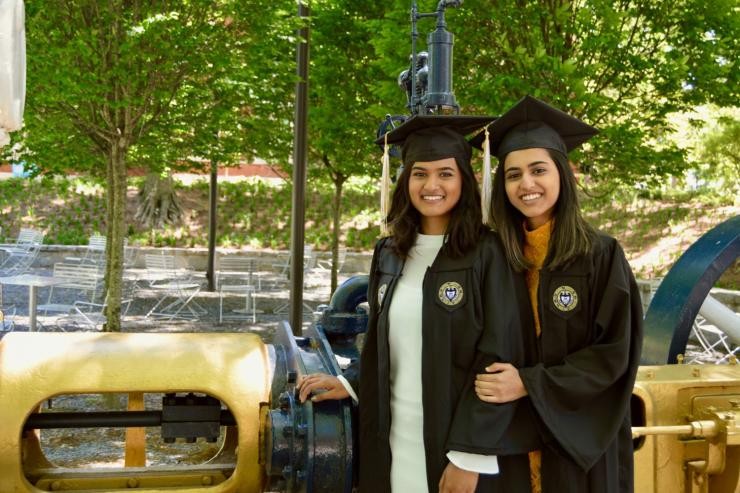 May 03, 2019 - Atlanta, GA
Editor's Note: This story by Grace Wyner first appeared in the Georgia Tech News Center on April 30, 2019.
Amy and Rachna Patel, sisters from Johns Creek, Georgia, have been fortunate enough to get to experience their time at Georgia Tech together — and they plan to finish it off by graduating together as well.
On May 4, the two sisters will attend the same undergraduate Commencement ceremony and receive their degrees in under four years' time. Amy, older by 13 months, is graduating in three years with a bachelor's in neuroscience. Rachna is graduating in two and a half with a B.S. in chemistry.
Though Rachna still has a few more classes to finish up this summer, she'll be walking across the stage with her sister, and the two of them couldn't be more excited about it.
"It's important to remember where you came from and how this one person has been there for you the whole time," said Amy.
Amy first arrived at Tech in the fall of 2016 as a biochemistry major, but switched to Tech's brand-new neuroscience program at the start of her second year. She is one of the first to graduate with the degree.
Rachna, on the other hand, has been a chemistry major since arriving at Tech in 2017. The two say this shows one of the fundamental differences between them — while both wanted to go to a school that would give them a solid STEM foundation, they chose different paths to get there. Now, both plan to pursue careers in the health field.
The Patels understand the importance of living separate lives, but still made plenty of time to see each other. And if there's one thing that never failed to bring them together, it's football.
"We went to every single [Georgia Tech] game together last season," said Amy. Both sisters understand the ins and outs of the sport, so they loved being able to combine their school spirit with their knowledge of the game.
Their love of football began during their childhood in Boston. In February, when their favorite NFL team, the New England Patriots, came to town for Super Bowl LIII and even practiced at Georgia Tech, they were elated. Rachna and Amy saw each other every day while trying to spot their favorite players walking around campus. They also took advantage of some of the Super Bowl-related events in the city, including the Super Bowl Experience at the Georgia World Congress Center. Fortunately, each sister knew there was someone around who would be willing to go with her to experience these once-in-a-lifetime opportunities.
Like most siblings, Amy and Rachna believe that one of the biggest benefits of having each other around was knowing that there was someone close by who could understand them better than anyone else. Whether it's having a study buddy, gym partner, or just someone to talk to, it was good to have a close family member on campus.
"They're your support system," Rachna said. "You know you can't talk to anyone else the way you talk to them."
As the Patels prepare to finish their time at Tech, they're looking toward the future to share more experiences with each other. They plan on traveling around Europe once Rachna finishes her summer classes, and taking a gap year before Amy heads off to medical school and Rachna starts dental school. It will be a welcome break after several years of hard work, and they'll get to do it the way they've done so many things before: together.