Contact Information
Email

Phone

Location

IBB 3306

Research Group

Publication Links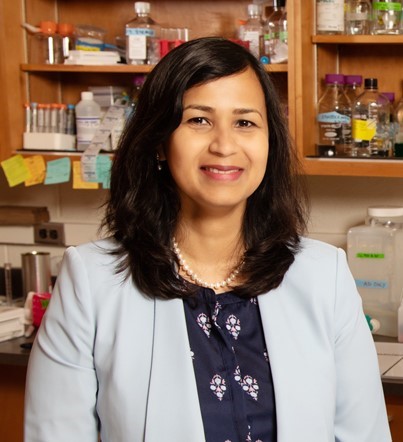 Aditi Das
Associate Professor
Education
B.Sc. (Chemistry) St. Stephen's College
M.Sc. (Chemistry) Indian Institute of Technology, Kanpur (I.I.T)
Ph.D. (Chemistry) Princeton University
Research
One of the key challenges in life science research is elucidating the physiological role of lipids. Lipids provide structural support to cells, regulate the function of membrane proteins, and are converted to bioactive lipid metabolites that can act as signaling molecules. Therefore, lipids are important in sustaining homeostasis in the body and have been implicated in multiple disease states such as neurodegenerative, cancer and cardiovascular diseases.
ENZYMOLOGY OF CYTOCHROME P450s
CYP mediated metabolism of ω-3 and ω-6 fatty acids and their derivatives: We want to elucidate the biochemical function of CYP2J2 epoxygenase, the primary epoxygenase in the heart and brain towards its ability to convert of ω-3 and ω-6 fatty acids and their derivatives into epoxides.
Minor cannabinoid Metabolism of CYPs: Minor cannabinoids from cannabis are rapidly metabolized by CYPs leading to the formation of metabolites with unknown physiological functions. Therefore, we study the inhibitory potential and metabolism of minor cannabinoids by human liver CYPs (CYP3A4, CYP2D6, CYP2C9, CYP2C8 and CYP2J2).
DISCOVERY OF NOVEL ANTI-INFLAMMATORY LIPID METABOLITES-ENDOCANNABINOIDS
We are interested to study the metabolism of endocannabinoids by CYP enzymes to yield a new class of anti-neuroinflammatory molecules. As omega-3 PUFAs such as docosahexaenoic acid (DHA) and eicosapentaenoic acid (EPA) have been shown to be beneficial to neurological health, the primary objective of the study is to discover novel DHA and EPA based endocannabinoids and neurotransmitter conjugates in brain and evaluate their activity on CB1-CB2-TRPV1 axis and towards modulating immune function.