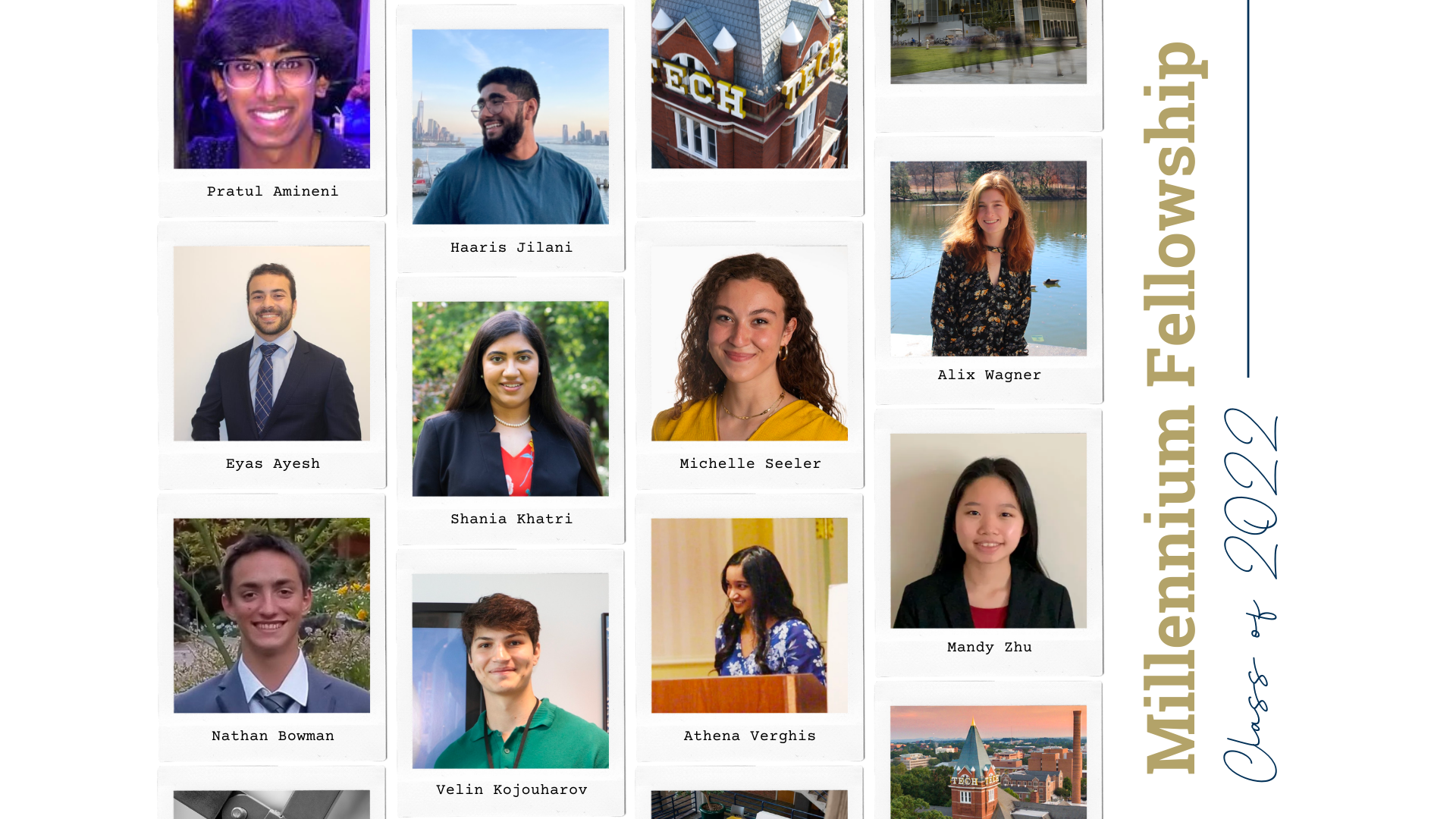 Oct 04, 2022 - Atlanta, GA
Note: This story, written by Cory Hopkins, first appeared on the website of the Office Of Undergraduate Education, and has been tailored for our audiences.
Ten Georgia Tech students, including four from the College of Sciences, were selected for the 2022 Millennium Fellowship, a joint leadership program of the Millennium Campus Network (MCN) and the United Nations Academic Impact (UNAI).
The fellowship is an ambitious program to help make the United Nations Sustainable Development Goals (SDG) and UNAI principles a reality. The Class of 2022 Millennium Fellows have been selected among a record-breaking 31,397 applicants from over 2,417 campuses across 140 nations.
Millennium Fellows are university undergraduates selected based on their leadership on sustainable development-related projects that advance the SDGs in their communities. As Millennium Fellows, they will participate in a semester-long leadership development program to improve their student organizing, partnership building, and community impact skills.
"Students' ongoing pursuit of the Millennium Fellowships reflects Georgia Tech's larger commitment to pursuing solutions on a global scale. The fellowship supports real-world initiatives in sustainable development, providing leadership training and a community of like-minded recipients," said Shannon Dobranski, director of Pre-Graduate and Pre-Professional Advising in the Georgia Tech Career Center. "Each year, the Millennium Fellowship helps Georgia Tech students invested in sustainability to identify and connect with each other. It also helps them to refine and articulate their own goals related to sustainability and the impact they hope to have on their community now and in the future."
Three School of Biological Sciences students are included in the latest cohort of Millennium Fellows: Shania Khatri, Michelle Seeler, and Mandy Zhu. Biochemistry major Nathan Bowman, also invited to the Fellows program, plans to pursue his project at a later date.
The College of Sciences students join six more Georgia Tech Millennium Fellows:
Pratul Amenini, Biomedical Engineering
Eyas Ayesh, Mechanical Engineering
Haaris Jilani, Biomedical Engineering
Velin Kojouharov, Mechanical Engineering
Athena Verghis, Environmental Engineering
Alix Wagner, Biomedical Engineering
The Millennium Fellowship Class of 2022 includes over 3,000 Millennium Fellows on 200 campuses in 37 nations that are participating in the program this year. The Class of 2022 is on track to engage in projects collectively advancing all 17 Sustainable Development Goals and all 10 UNAI Principles.
Georgia Tech's fellowship recipients will take part in a semester-long development program divided into three parts:
1. CONVENE
Georgia Tech Millennium Fellows will convene on-campus to learn from and challenge each other. Millennium Fellows convene at least 8 times during the program.
2. CHALLENGE
Students will develop a plan of action for their sessions together, meet to exchange best practices, and think bigger.
3. CELEBRATE
When the cohort meets their goals and completes the Fellowship graduation requirements, they will earn a certificate of recognition from United Nations Academic Impact and Millennium Campus Network.
Learn more about the Millennium Fellowship here.
How to Apply for This Fellowship and More
Promoting and supporting the Millennium Fellowship is a team effort each year. Pre-Graduate and Pre-Professional Advising works with fellowship administrators to host information sessions and Serve-Learn-Sustain reaches out to the SLS community to spread the word. Students interested in the Millennium Fellowship, or any nationally or internationally competitive award, should follow up by scheduling an appointment with Prestigious Fellowships Advisor, Karen Mura, on AdvisorLink.
Pre-Graduate and Pre-Professional Advising is part of the Office of Undergraduate Education (OUE). Learn more about OUE by following @gtoue on Instagram, Twitter, and Facebook.