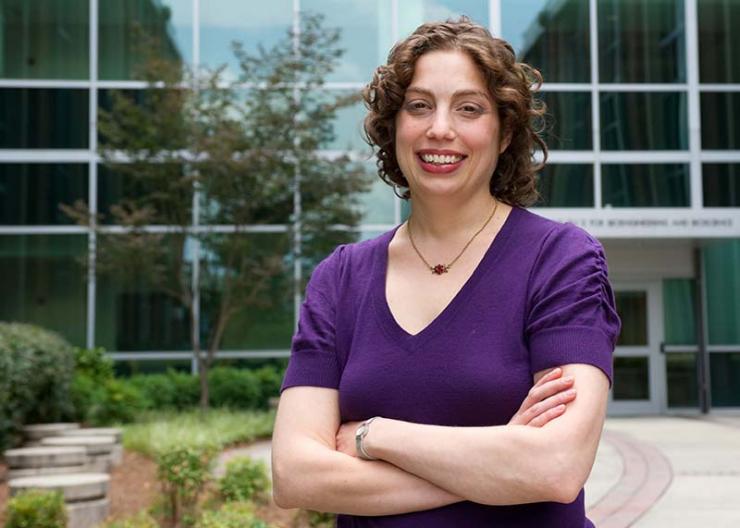 Nov 22, 2021 - Atlanta, GA
Raquel Lieberman, professor in the School of Chemistry and Biochemistry and winner of the 2020-2021 Gretzinger Moving Forward Award from the College of Sciences, is the inaugural chair of the Kelly Sepcic Pfeil, Ph.D. Faculty Endowment Fund, a new effort designed to increase the number of women faculty in the School.
"I am very honored to have been named the Sepcic Pfeil endowed chair," Lieberman says. "Pfeil is one of our most successful Ph.D. graduates. She attended graduate school at a time when there were far fewer female students, and no tenured female faculty members. Her decision to endow this position is terrific, and it expands upon involvement to tangibly improve the camaraderie and peer mentorship of female graduate students in our department."
Kelly Sepcic Pfeil, a member of the College of Sciences Advisory Board, received her M.S. in Chemistry in 1992 and her Ph.D. in the same discipline in 2003. She and her husband David established the fund in 2020 to counter statistics showing less than 20% of STEM faculty positions nationwide are held by women, with most of those assistant professor positions, considered a launch point for academic careers. And many of those women choose to eventually leave academia and enter the private sector. 
"Students need more role models," Pfeil says. "If young women and minority students don't see more women in faculty positions, they may be discouraged from obtaining STEM degrees. That could lead to even fewer women in these disciplines. We are building a pipeline for women in STEM, and that pipeline starts in academia," she explained in the Georgia Tech spring 2020 issue of Philanthropic Quarterly.
About Raquel Lieberman
Lieberman researches protein folding and misfolding, particularly when it comes to proteins that are linked to early-onset, inherited forms of glaucoma. A second major project involves the study of membrane-spanning proteolytic enzymes that are related to those involved in producing amyloid-beta associated with Alzheimer's disease.
"With this new role, I hope to grow my research program dealing with the molecular aspects of protein misfolding in human diseases and continue to mentor a diverse group of trainees," Lieberman says. "I share Pfeil's commitment and passion for doing what I can to ensure the future generation of scientists will better reflect the makeup of the general population. All of society will benefit."
Lieberman is also the College's recent recipient of the Gretzinger Moving Forward Award, which is named for Ralph Gretzinger ('70 Math) and his late wife Jewel. That award recognizes the leadership of a school chair or senior faculty member who has played a pivotal role in diversifying the composition of tenure-track faculty, creating a family-friendly work environment, and providing a supportive environment for early career faculty.
About Kelly Sepcic Pfeil
Sepcic Pfeil spent 14 years at Coca-Cola, where she was responsible for flavor development and ingredient quality for the company's global product and flavor lines. She left in 2007 to become vice president for Frito-Lay North America's new product innovation, and later vice president of PepsiCo's global strategy and portfolio management teams for snacks. In 2015, she formed her own firm, ArrowInno, which provides product design and innovation consulting to food and beverage companies.
Sepcic Pfeil has also served as an instructor for the Georgia Tech School of Chemistry and Biochemistry summer program, "Concept to Market" innovation course, for three years. She leads an annual offsite event for Tech's Women in Chemistry program on career and professional development, and also serves on Georgia Tech's President's Board and the School of Chemistry and Biochemistry Advisory Board.